Whale Watching on Whale One

Quick details:
Season: June through October
Departure location: The Wharf Mooloolaba, Queensland
Tickets: Adult $75, Children (4-14 years old) $55, Family pass $219, Under 4 free
Trip duration: Depending on the time of the season, approximately 2.5 to 3 hours on the water
The experience of a lifetime
One of the most magnificent encounters we can have on this planet is during the humpback whale migration. Excitement and anticipation fill the air while we search along the horizon for the first blow or splash from these gentle giants. After years of observing these animals, we can feel we can safely say they sense us near them, as it seems they often curiously swim up to see our excitement.
This is an educational and informative tour that will give you an immersive experience that is all left completely up to nature. We ask all our customers to acknowledge this is an organic experience and in no way do we control the animals or their behaviours.
We give all our whale watching tours a 100% guarantee on whale sightings, so if there are no whales at all that day you will have the chance to go again on a free return trip. We do not offer refunds.
Your content goes here. Edit or remove this text inline or in the module Content settings. You can also style every aspect of this content in the module Design settings and even apply custom CSS to this text in the module Advanced settings.
Whale Watching on Whale One
After booking, we will send you a confirmation email with the details of your trip. The day before your departure we will confirm the time you should arrive for check in.
On arrival at Sunreef, you will be asked to obtain a boarding pass from our check in desk and ensure all the names on your booking are correct. We will then direct you on where to queue for boarding.
Departure will commence and we will give all our guests a thorough briefing of the vessel as we leave the Mooloolaba River. This trip out of the river will take approximately 15 minutes.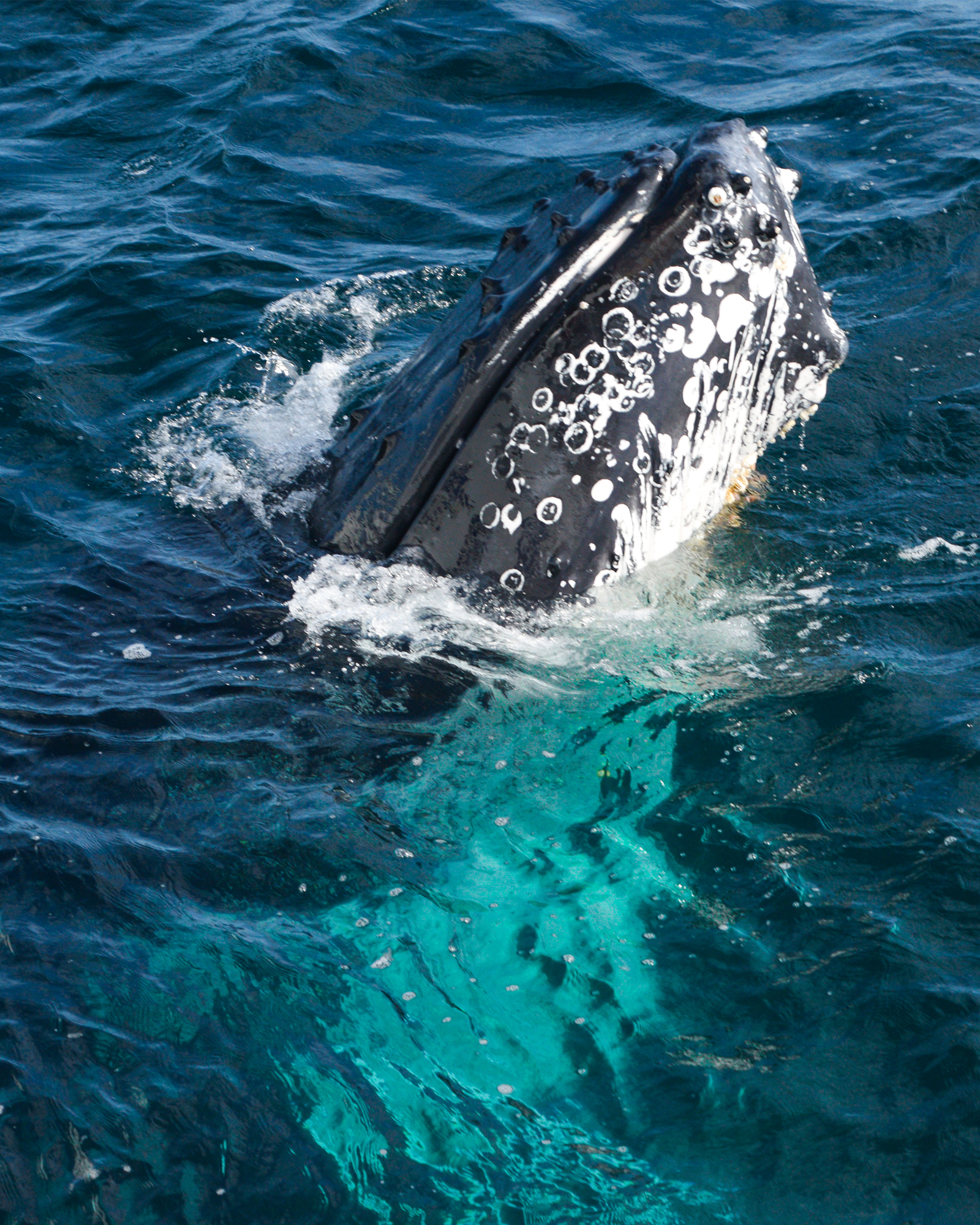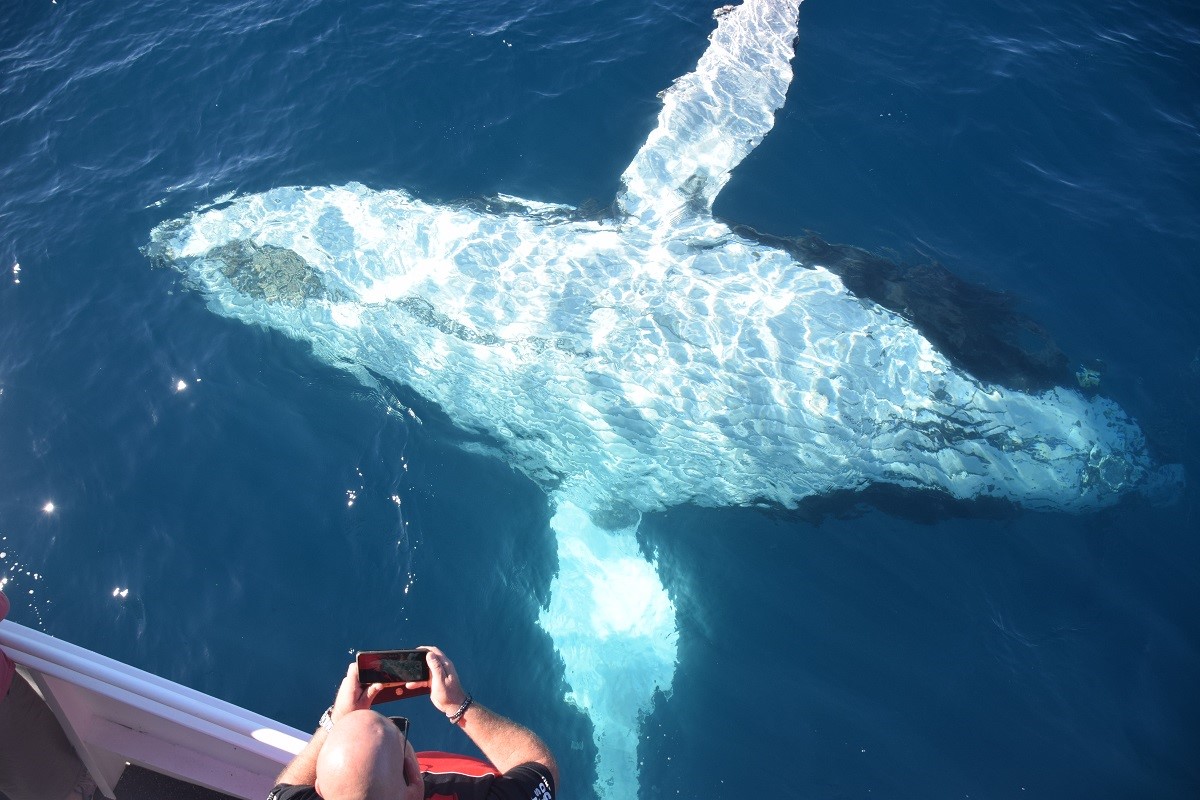 When we're out on the ocean, we will begin to search for whales using our sight. We will teach you all how to do this and what to look for, and if you're the first person to sight a whale on the trip, we might have a special little prize for you!
As we will be on the open ocean, there is a chance we could see any marine life! It's not unusual to see dolphins, rays, turtles, jellyfish, and other animals on our trip as well as the humpback whales.
When we spot the whales, we will go up to a safe distance away from the animal and observe their behaviours.
Sometimes they will be curious enough to come right up to us, they may even swim underneath Whale One. Sometimes they may be displaying logging behaviour or diving under the surface more. Sometimes they could swim away and we would have to find other whales to watch.
However, the most extravagant is when we are able to the range of amazing surface behaviours that humpback whales often display. Humpback whales have been noted by scientists to be the whale species that displays the highest amount of surface activity.
No matter what these animals are doing, we endeavour to make your whale watching experience informative and a day to remember for everyone.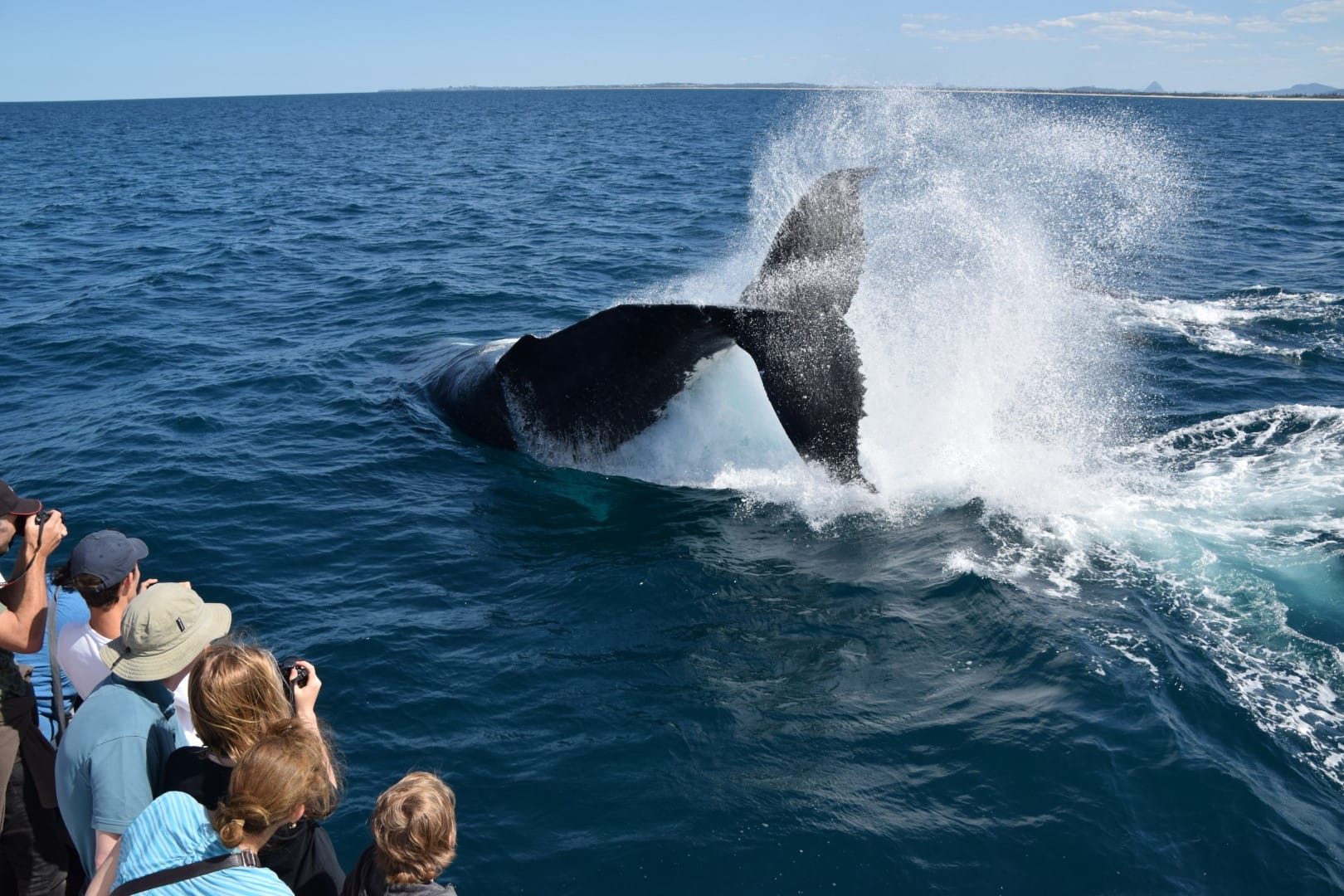 In terms of clothing, we have always found that it's best to dress in layers. The Sunshine Coast winter is usually very mild, with the highs being around 21° C / 68° F. It's also important to note that temperatures can feel very different depending on whether you are in the sun or the shade. Please make sure you are staying sun safe by taking along a hat, sunscreen, and sunglasses.
Please make sure you take along non-slip, comfortable footwear. Please do not wear heels for this tour as you will be on the open ocean where the vessel will not be completely still. 
If you have personal medications please ensure you take these along. Feel free to ask our staff if you have any questions at all.
You are welcome to take along your own camera. Make sure your battery is charged and you have enough space on a memory card. If a camera is not available to you or if you do not end up getting any photos, we have a photographer in our crew who will be taking photos. These will be sold on board as either prints or digital format.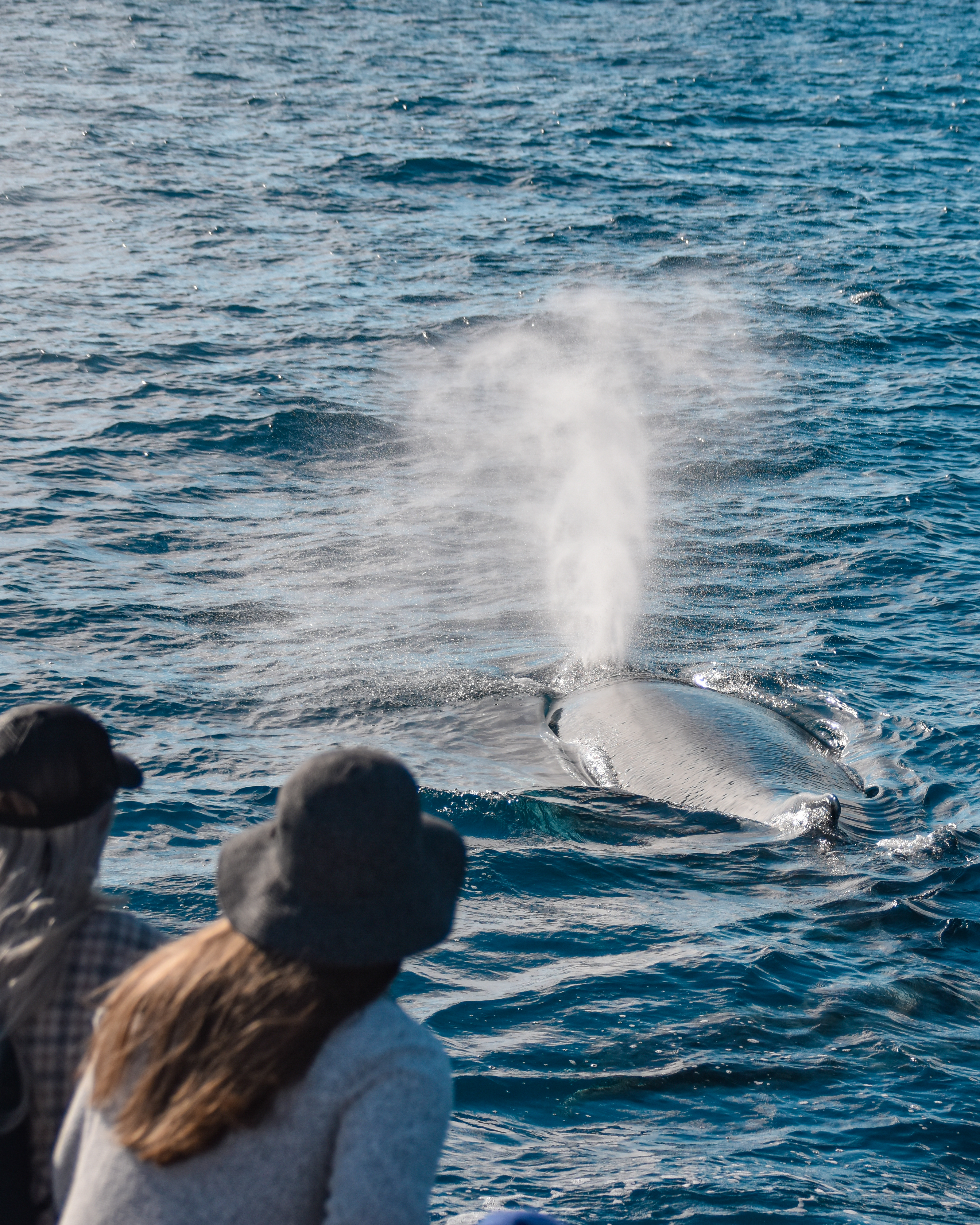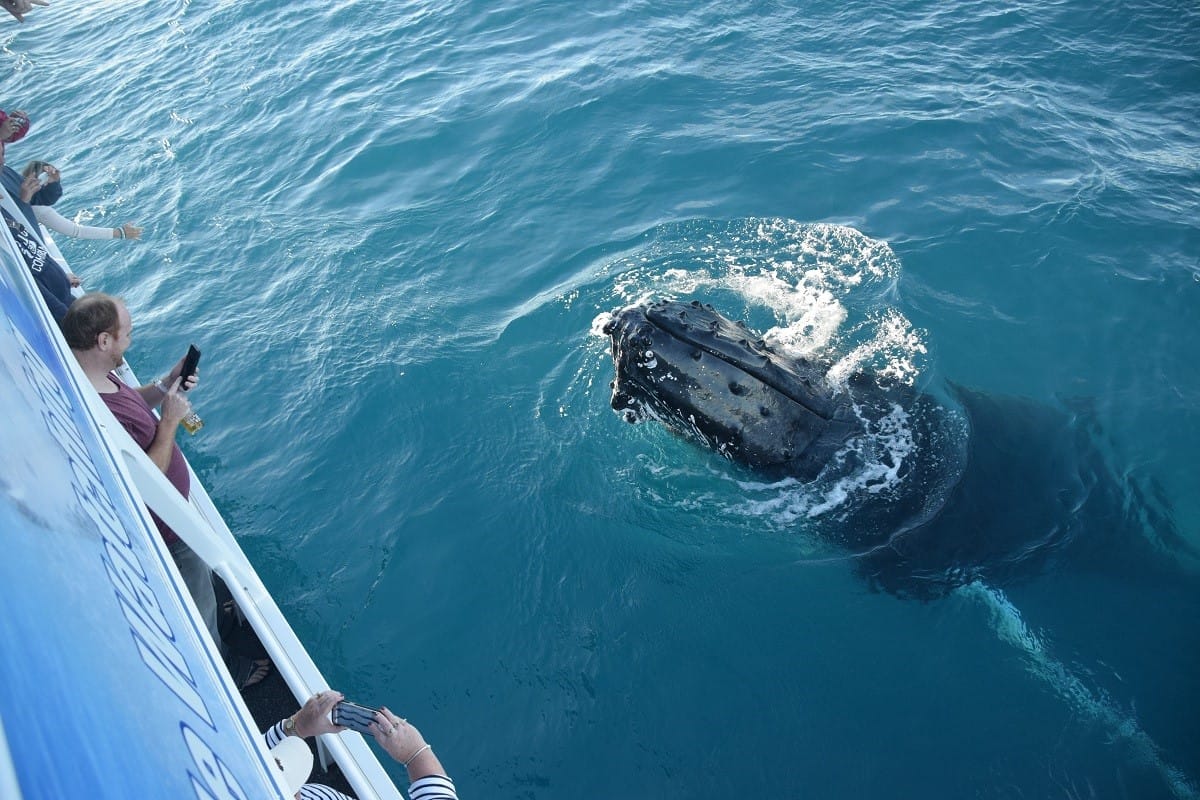 Food and drink:
As we will be on the water from 2.5 to 3 hours, we will ensure you are well looked after – we have light food, snacks, soft drinks and alcohol available for purchase (alcohol after 10am). 
Eligibility requirements to board the Whale One vessel for Whale Watching:
Children under 14 years old must be accompanied by an adult at all times. If you are pregnant, we unfortunately cannot take you on this tour. Unfortunately, there is no wheelchair access available on any of our vessels. We are truly sorry for any inconveniences this may cause.
We're sorry, no drones are permitted on board.
Seasickness: 
This is in open water and we suggest you consider seasickness tablets to minimize the risk of seasickness affecting your trip. We will not issue any rebookings or refunds for being seasick.
Parking: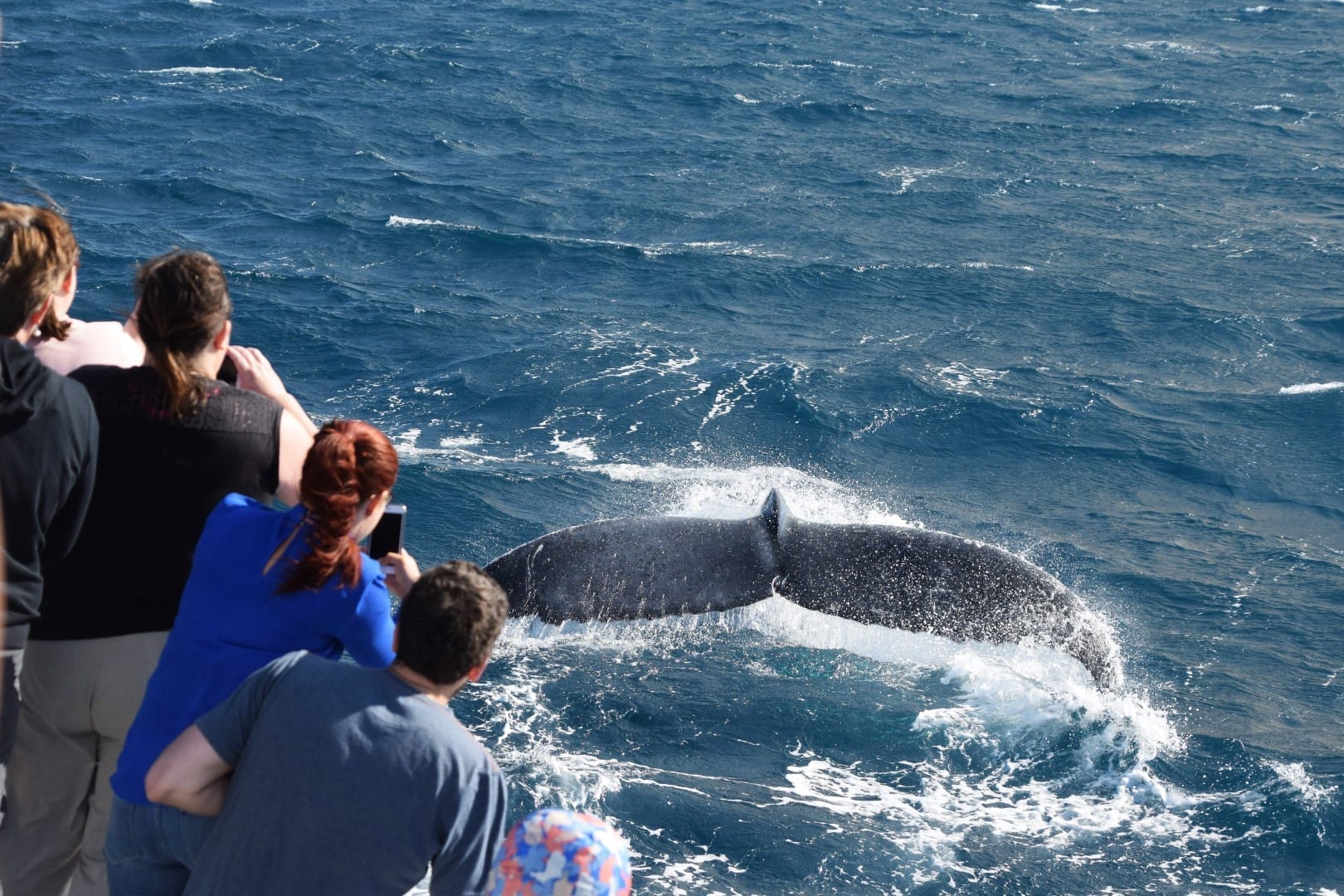 Booking & Trip Confirmations:
Please make sure you are monitoring your emails and text messages.
We will send you 1) A booking confirmation after you finalise your booking and payment for your whale watching tour; and 2) a trip confirmation the afternoon before the day of your booking.
The trip confirmation will depend on the sea conditions. We monitor the swell height and wind speed very closely and will get the most accurate reports of the next day's conditions by around 3:30 pm. If you do not receive a trip confirmation by 4 pm the day before your booking, please contact us.
We would absolutely love to spend every day of whale season whale watching however unfortunately on some days, nature has a different plan for us. This being said, if we ever have to cancel or reschedule due to poor sea conditions we do this strictly for our customers safety.*

We ask that all our customers please note that although sometimes the weather looks fine on the beach, it does not always give an accurate representation of what the conditions offshore are.

* If we have to cancel the trip due to the sea conditions, we will either rebook you for another day, or refund you.
Absolutely amazing experience! Today was a very important bucket list trip for a gentleman in the final stages of Huntingtons Disease. ALL of the staff on board were wonderful in assisting him on and off the vessel. They also ensured he was assisted to the deck with a very clear view of whales at any opportunity. It was the most touching experience having everyone help to make this trip a success and I can not thank any of them enough. You have made our hearts so full, and really made a mans dream a reality. We can not thank you enough!
– Brianna P.
Such a phenomenal service here in the Sunshine Coast!! The boat is so clean, the staff professional and actually love their job. I've been in this boat for a whale watching tour and it was amazing!! So respectful towards the whales whilst giving everyone a close eye view of the magnificent creatures!!
– John V.
Friendly, funny crew, beautiful ocean to explore, we saw a mother and calf playing together, it was hard to have to leave and head back for shore. The boat was so clean and neat and the background music was so joyful. (those are little things, but they really contributed to the day being incredible).
– Anna N.
What a fantastic and amazing experience! Had the best conditions and a great display of whales breaching SO close to us, it was just crazy! All the staff on board were funny, factual and got everyone involved! 12 out of 10. Do it, you wont regret it!
– Angela F.
Amazing!! We took a Whale tour on Whale One. Amazing weather, amazing guides and amazing views. The Whales came out in force today……we were so lucky to see Mothers and their babies! The guides were so knowledgeable and friendly making the whole experience a great morning out.
– Hollee B.
8 am - 5 pm Monday - Saturday
8 am - 4 pm Sunday
Queensland's Sunshine Coast is about a one hour drive north of Brisbane. Mooloolaba is around a  50 minute drive south of the Noosa.
Our office is located at The Wharf Mooloolaba in Sunreef. The Vessel Whale One is docked on the river behind the shop.
Shop 11-12, The Wharf Mooloolaba, 123 Parkyn Parade, Mooloolaba qld 4557