Photos from past seasons…
"We are excited to support another fantastic experience on the glorious Sunshine Coast"

Simon Latchford – Visit Sunshine Coast CEO
Swimming with Gentle Giants
The opportunity to swim with a humpback whale is a rare and very special one – something that people who have experienced it have described as "life changing". The feeling one gets when experiencing this closeness with a humpback whale is something that stays with a person their whole life, no matter how "close" you actually get. These animals have a way about them that makes their presence alone a profound life event for all.
Every Swim with Whales experience is completely different from one another. The opportunity is always fully organic and what we experience as guests in the whale's environment is left completely up to nature. We ask that everyone who joins us on these tours understands that these are wild animals and there are be days where they want to interact closely with us, and days where they are uninterested in human interaction. We respect nature and these maginficent animals and hope that all our guests will understand this and respect nature as well. 
The Swim with Whales Experience
After booking, we will send you a confirmation email with the details of your trip. The day before your departure we will confirm the time you should arrive for check in.
On arrival at Sunreef for check in, you will check in with our staff who will ensure you have signed your Swim with Whales waiver, and see that everything on your booking has been addressed and any changes to your booking have been amended as necessary.
Your wetsuit, mask, snorkel and fins will be collected after check in has been completed. The Sunreef Crew will lead the way and help you with fitting. There are change rooms if you need to use them, though we do recommend that you come in with your swimsuit on underneath your clothes and just bring a towel and change of clothes for afterward to help speed up the process on getting out on the water with the whales!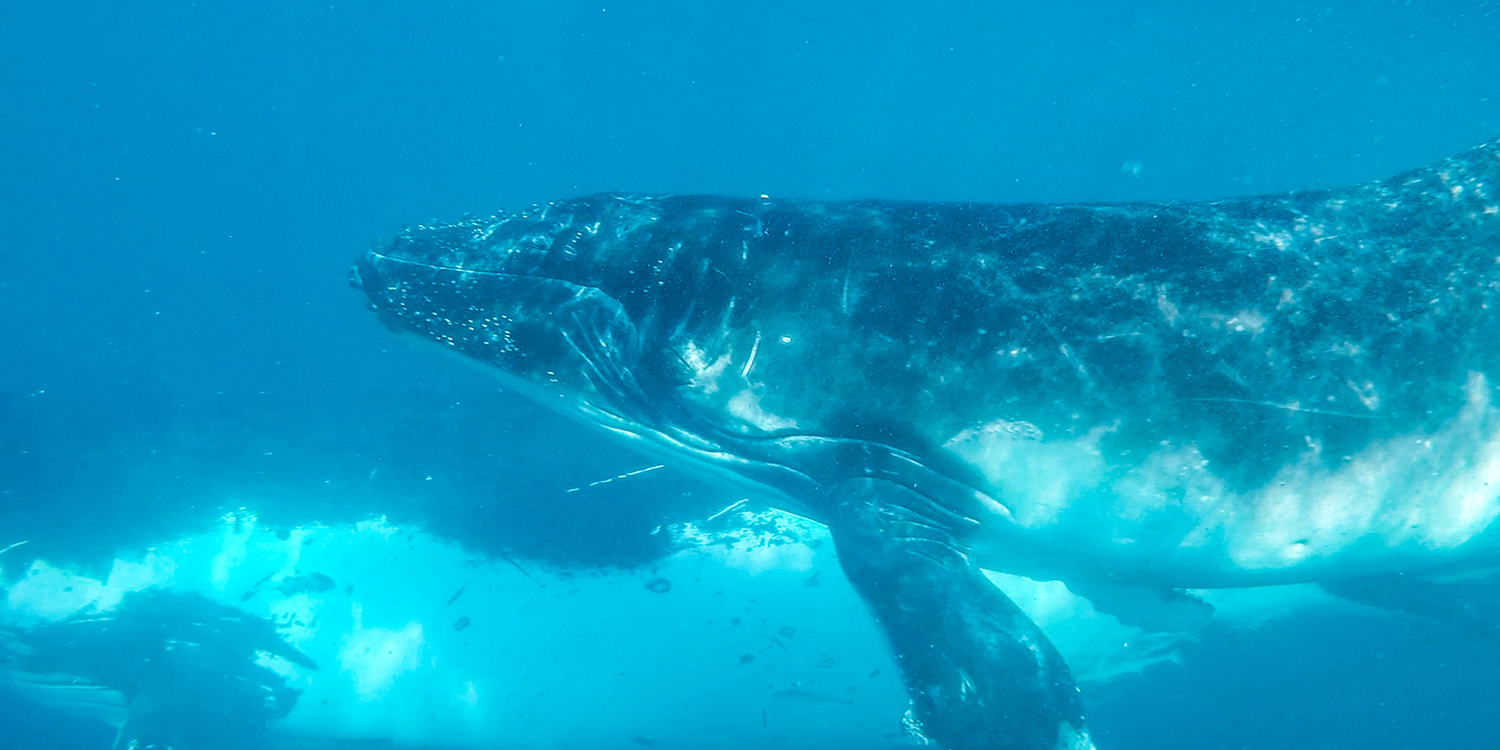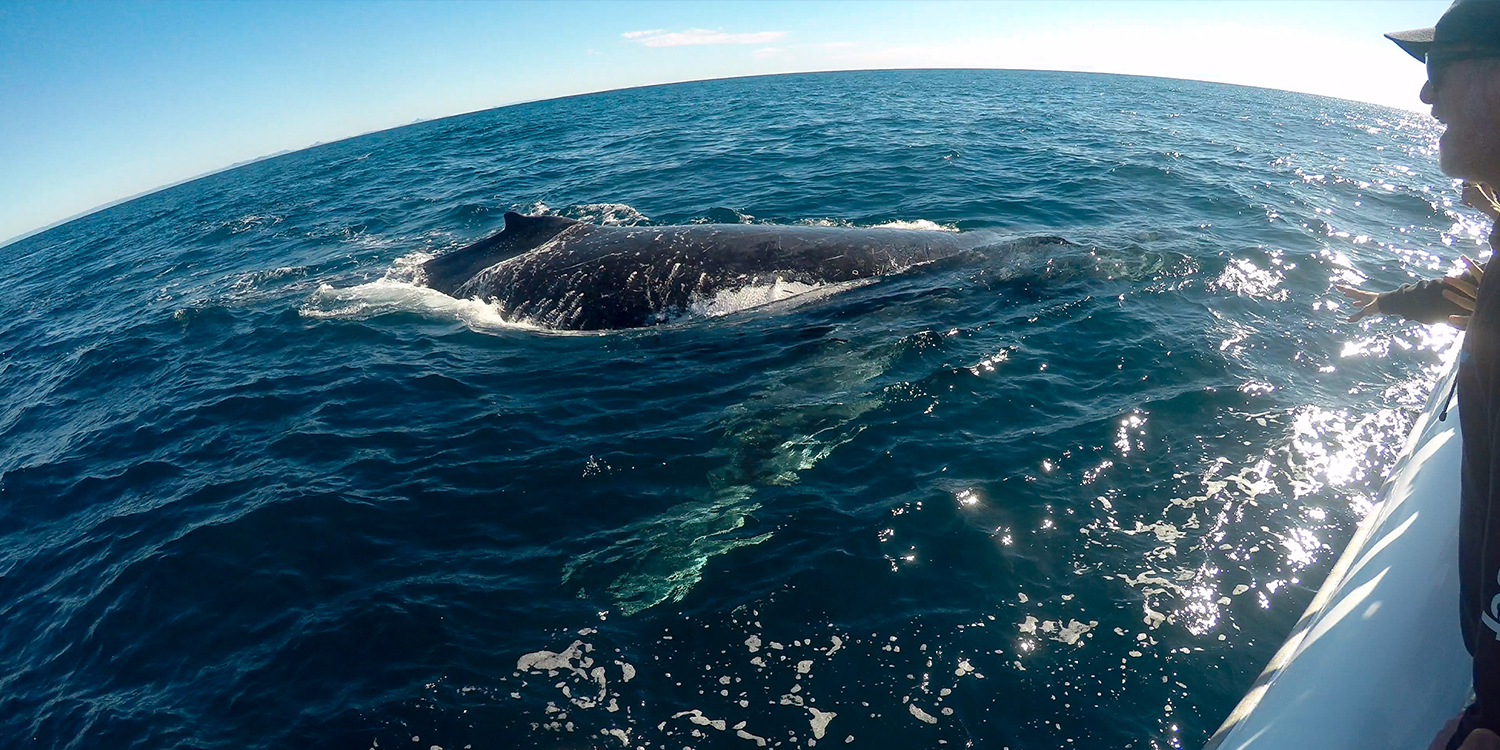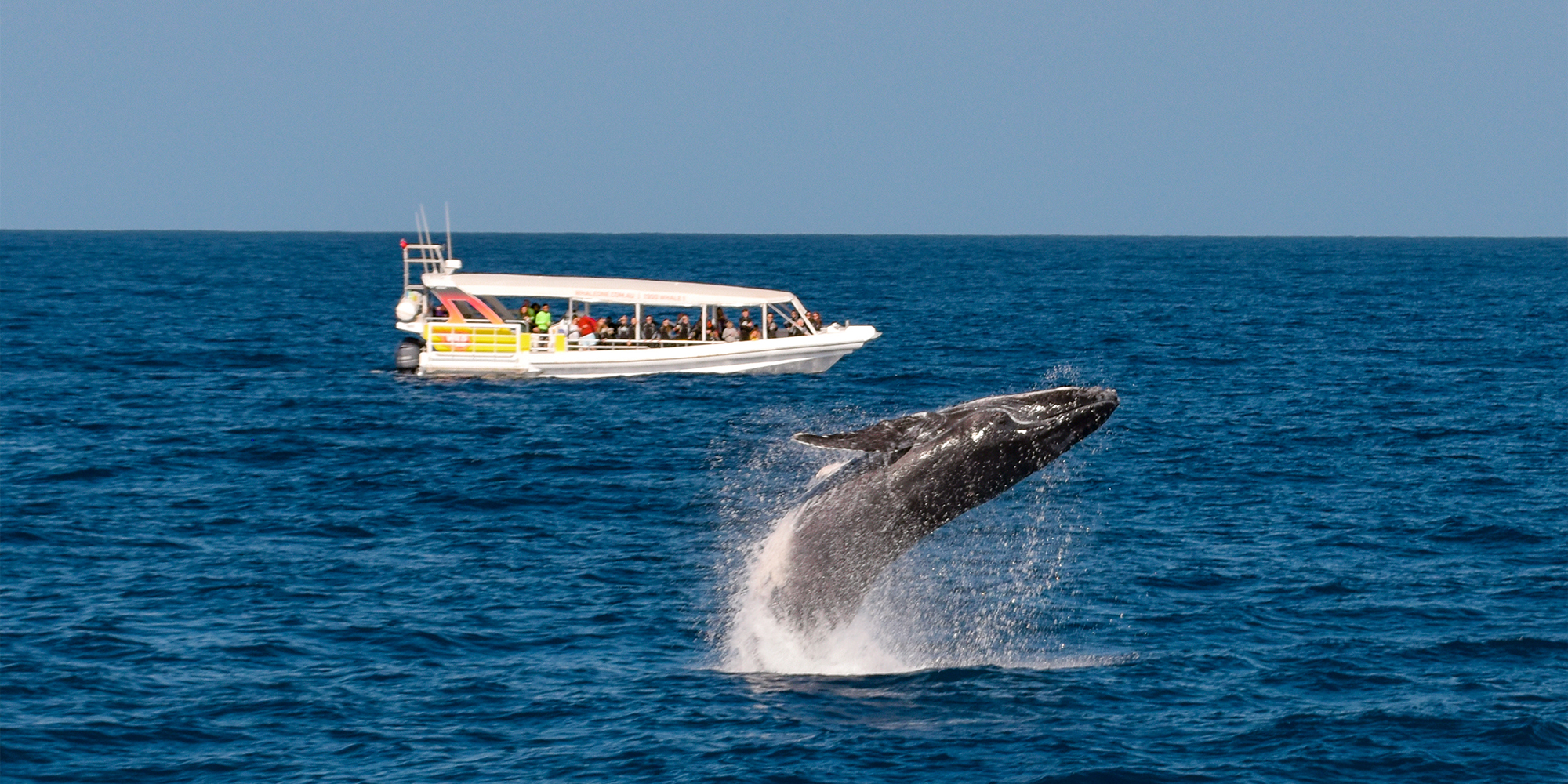 Departure will commence and we will give all our guests a thorough briefing of the vessel as we leave the Mooloolaba River. This trip out of the river will take approximately 15 minutes.
When we're out on the ocean, we will begin to search for whales using our sight. We will teach you all how to do this and what to look for.
After we spot whales, we will go up to a safe and respectful distance away of the animals. All encounters are conducted in accordance with the Australian National Guidelines for Whale and Dolphin Watching and our own strict Code of Practice.
The skipper and trained crew will give the final calls on whether or not we can swim with the animals. If the whales display unsuitable behaviours for a swim, we will simply watch them from the boat and give them their space. If the whales are showing sociable behaviours, we will turn off the engines of the boat and slowly enter the water.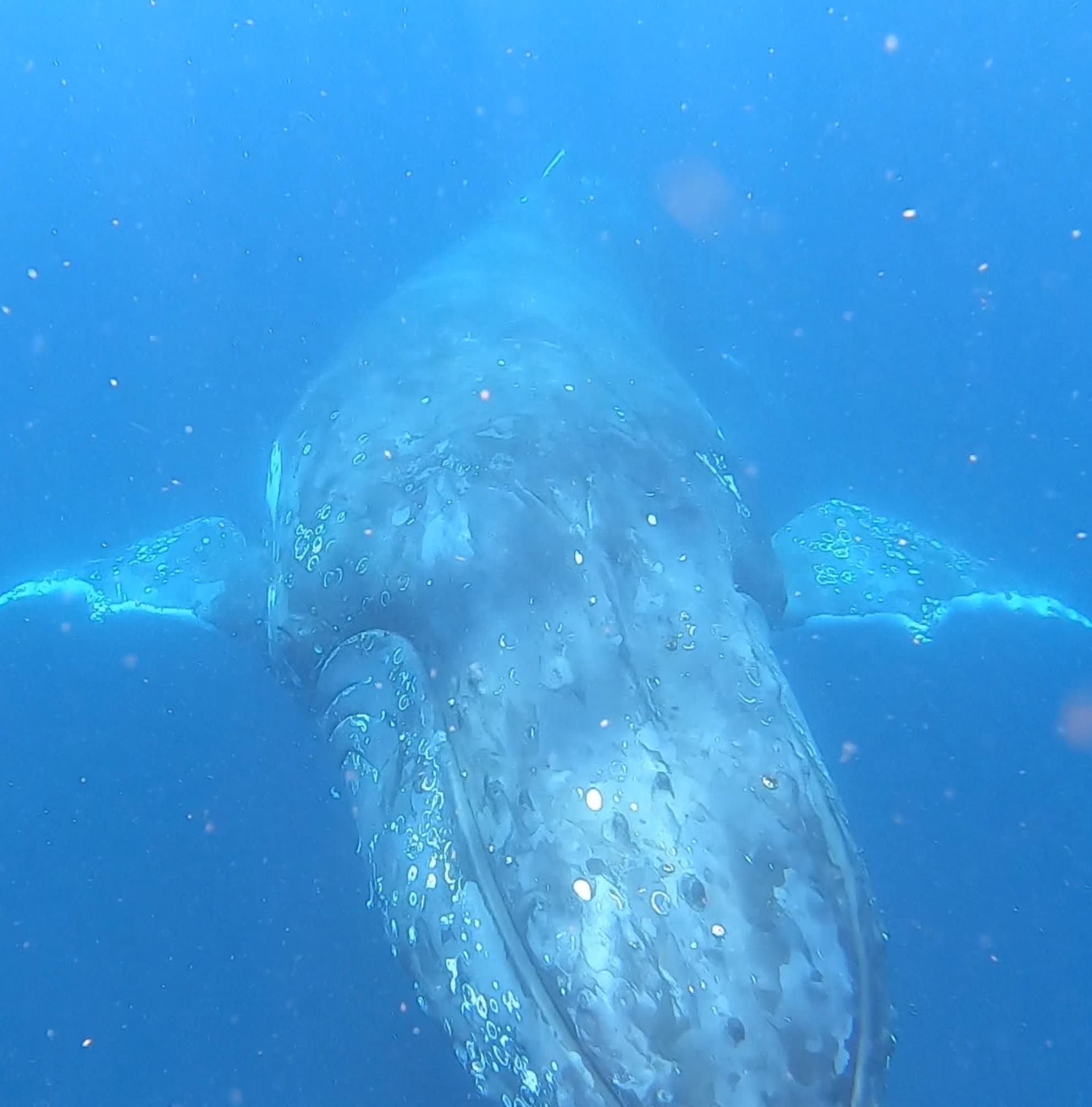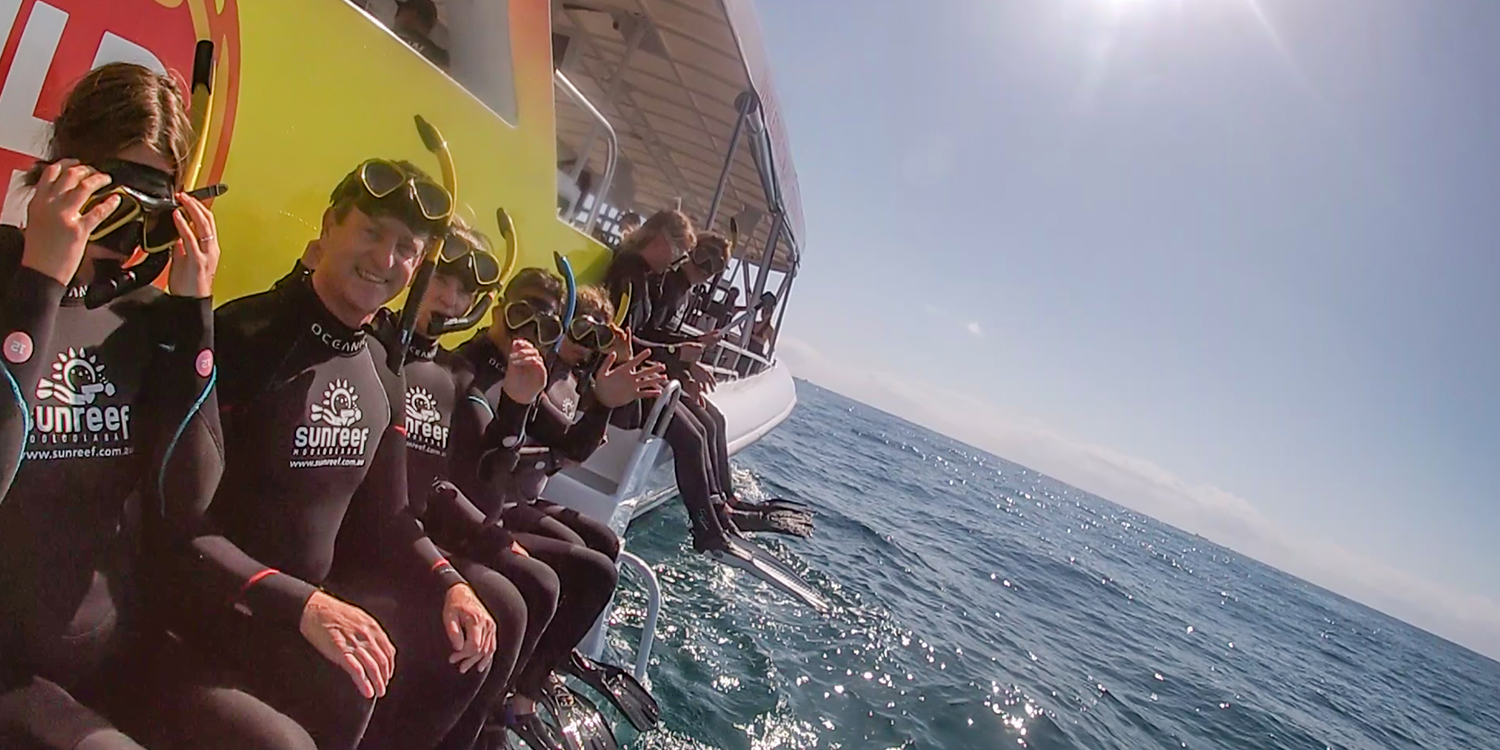 Anything we experience out on the ocean is completely left up to nature. In no way do we control these amazing animals nor their behaviours. Due to the nature of this experience, we do not offer refunds or discounts if the animals on the day do not interact with you as you expect.
Sometimes the whales may swim right under us while we are in the boat or in the water, sometimes they will swim away from us, sometimes they will only show surface activity, and sometimes they will come right up to us.* We cannot predict when this will happen and the only thing we have left up a trip success to is having a positive attitude throughout the tour.
No matter what happens, we always do what we can to look after you, and respect the whales boundaries and the oceanic environment.
*Please also note, these tours are a case of looking, but not touching these animals. 
We provide a mask, snorkel, fins and a 5mm wetsuit for all our guests, free of charge. You are welcome to use your own if you so wish. Wetsuits are a requirement.
We suggest that all our guests wear their swimsuit to Sunreef to save time with changing and get us out on the water sooner. However we completely understand if this is not  available to you, and we have changing rooms and bathrooms for you. 
After your trip it's great to have a dry towel and change of clothes. We have lockers available if you would like to ensure any of your items stay dry as we cannot guarantee they will on any of our boats. 
The Sunshine Coast winter is usually very mild and it's best to be prepared to be cooler in the shade and warmer in the sun. 
You are welcome to take along your own camera. Make sure your battery is charged and you have enough space on a memory card. We also have GoPros available for hire for $50.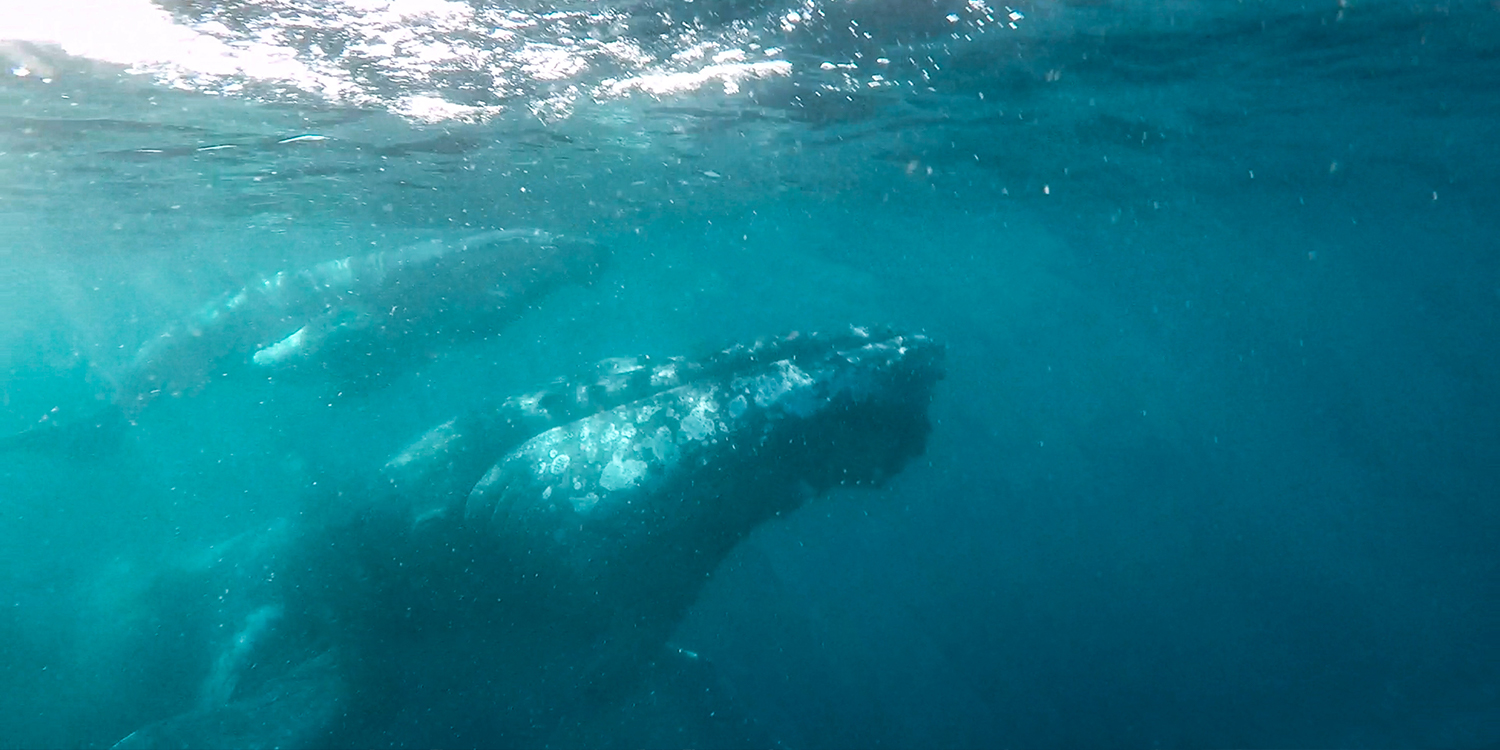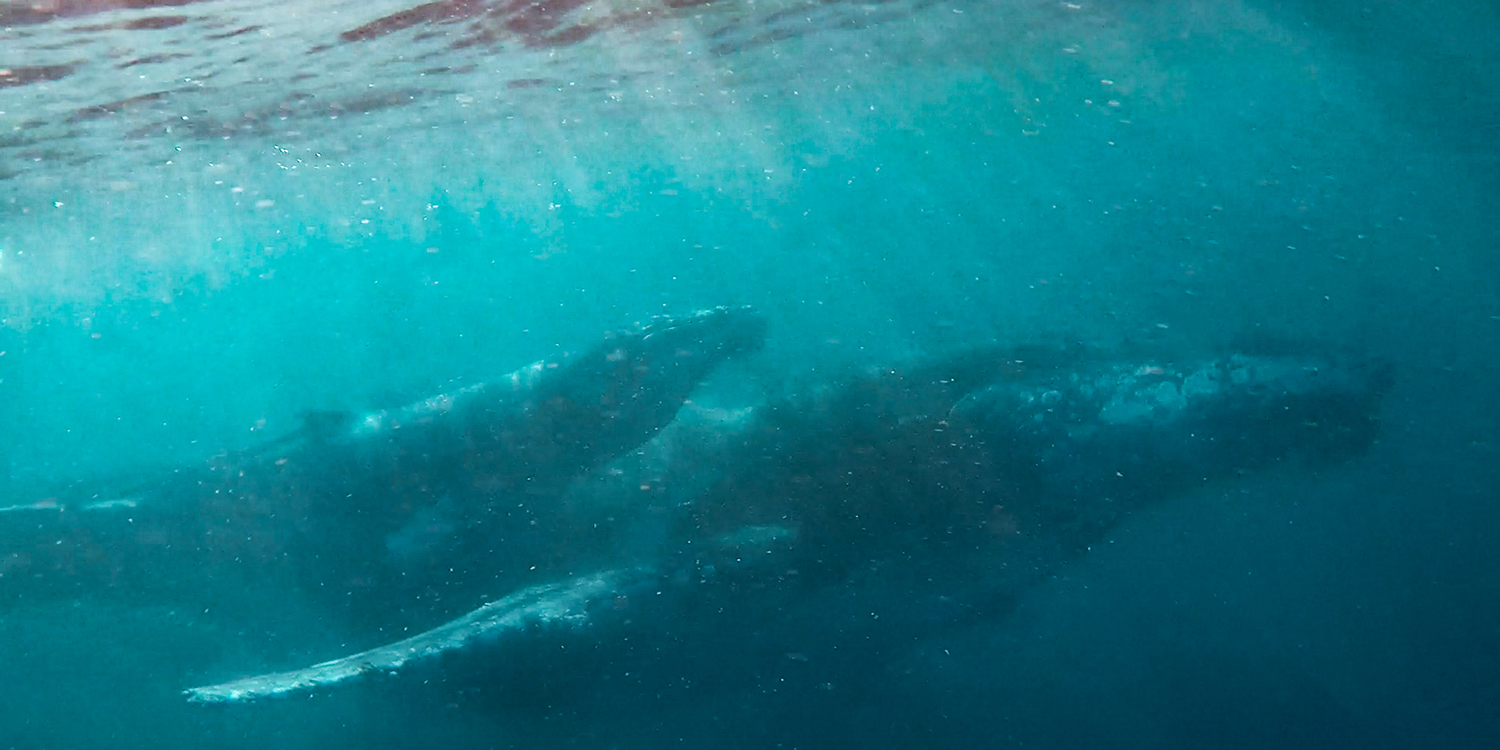 Food and drink:
We will be out on the water for around 4 hours, and have light snacks and water available. If you would like something more substantial to bring along with you, please feel free to do so.
Eligibility and requirements, and restrictions for Swim with Whales:
Children under 8 years old are not permitted on board, and children under 16 years old must be accompanied by an adult at all times, meaning both you and the child  are in the water at the same time or on the boat at the same time.
If you cannot swim, this tour will not be suitable for you, please see our whale watching tours for another amazing alternative to experience humpback whales.
Unfortunately, those of you who are pregnant or trying to become pregnant will be unable to participate in this experience. We also do not have any wheelchair access available on any of our vessels.
We are sorry but no drones are permitted on board, no weight belts are to be used, and no duck diving is permitted whilst in the water.
We are truly sorry for the inconveniences this may cause.
Seasickness: 
This is in open water and we suggest you consider seasickness tablets to minimize the risk of seasickness affecting your trip. We will not issue any rebookings or refunds for being seasick.
Parking: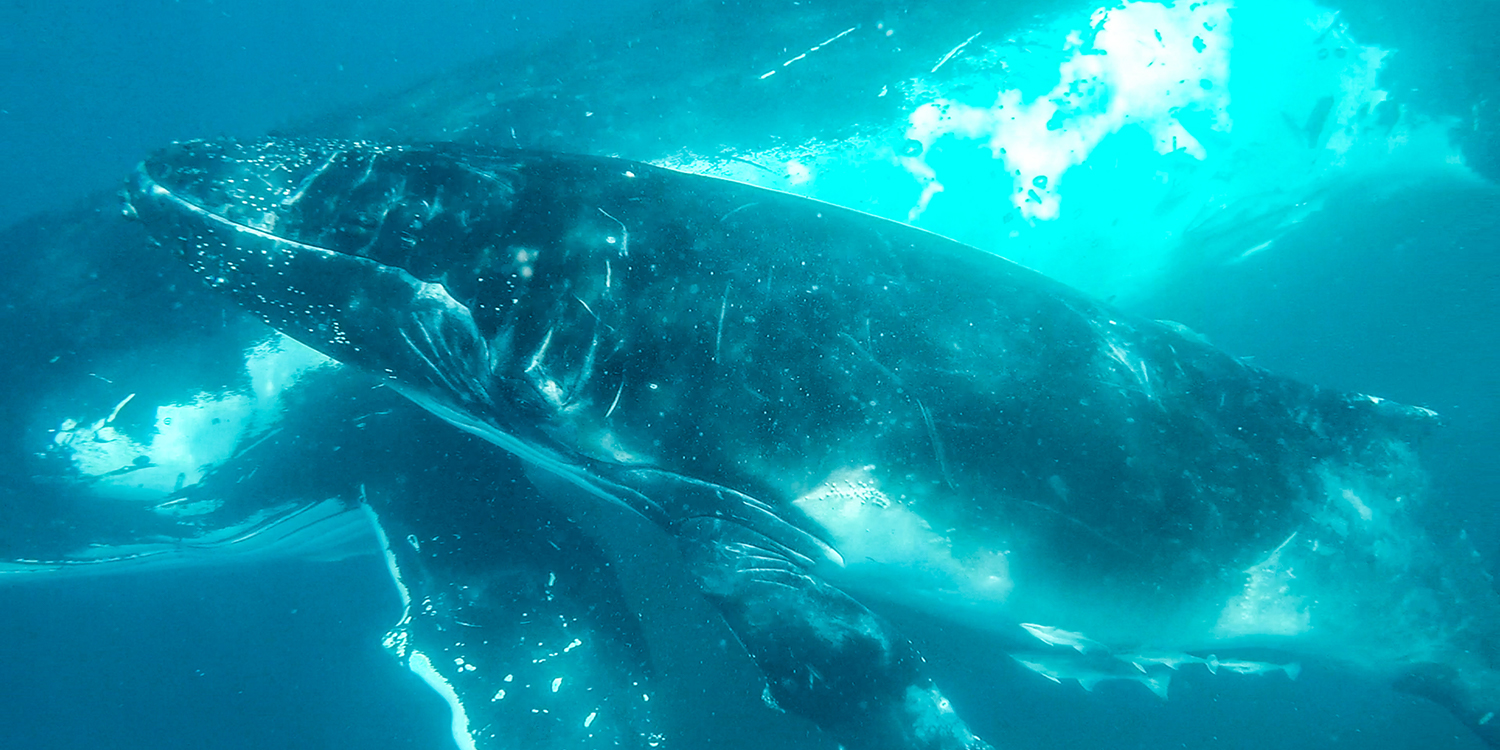 Booking & Trip Confirmations:
Please make sure you are monitoring your emails and text messages.
We will send you 1) A booking confirmation after you finalise your booking and payment for your whale watching tour; and 2) a trip confirmation the afternoon before the day of your booking.
The trip confirmation will depend on the sea conditions. We monitor the swell height and wind speed very closely and will get the most accurate reports of the next day's conditions by around 3:30 pm. If you do not receive a trip confirmation by 4 pm the day before your booking, please contact us.
We would absolutely love to spend every day of whale season swimming with whales, however unfortunately on some days, nature has a different plan for us. This being said, if we ever have to cancel or reschedule due to poor sea conditions we do this strictly for our customers safety.*

We ask that all our customers please note that although sometimes the weather looks fine on the beach, it does not always give an accurate representation of what the conditions offshore are.

* If we have to cancel the trip due to the sea conditions, we will either rebook you for another day, or refund you.
Today I had one of the best days of my life.
Had 2 amazing encounters with a beautiful whale who truly wanted to hang out with us. An incredible experience that I will remember for the rest of my life. Thank you so much to Izzi Matt and Ronnie for your desire to make our day whilst genuinely respecting the whales and our environment. So professional and competent and I would highly reccomend them. Thank you so very much.
– Leo P.
We had the best experience today swimming with the whales.
Wow.. all I can say is it was AMAZING! The crew were great with our kids and made sure they were ok in and outside the water.
Thanks heaps guys for a day we will never forget!
– Kerrie H.
I just wanted to thank the Captain & crew of #wildone for making today an epic adventure, for making everyone feel so welcome and safe on board.
Swim with whales was beautiful and I would recommend it to anyone wanting to get up close to our magnificent whales🐳
– Roslyn R.
Our family did the whale swim trip this morning with Johny, Terry and Benny. What an incredible, once in a lifetime, experience!! Not only did we get a terrific whale watching experience, to be in the water with them and have whales swim under us was absolutely breath taking. Thank you to our friendly and enthusiastic crew for an adventure we will never forget!
– Kim H.
8 am - 5 pm Monday - Saturday
8 am - 4 pm Sunday
Queensland's Sunshine Coast is about a one hour drive north of Brisbane. Mooloolaba is around a  50 minute drive south of the Noosa.
Our office is located at The Wharf Mooloolaba in Sunreef. The Vessel Whale One is docked on the river behind the shop.
Shop 11-12, The Wharf Mooloolaba, 123 Parkyn Parade, Mooloolaba qld 4557