South East Queensland's premiere scuba diving and Australia's first Swim with Humpback Whales experience operator, Sunreef Mooloolaba, is expanding their immersive ocean experiences, adding whale watching to its portfolio, having purchased Whale One.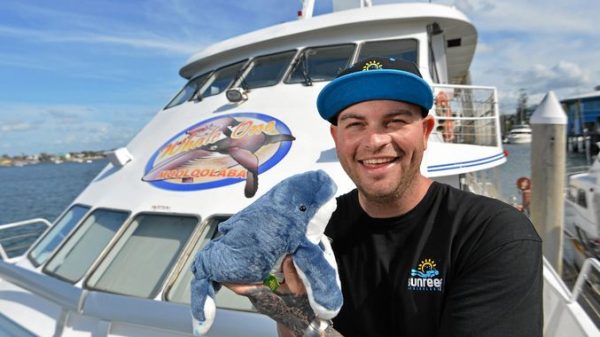 The expansion, which adds to Sunreef's purchase of adventure hire company Hire Hut at the beginning of the year, means there is no better place to go for aquatic adventure.
"We love the Sunshine Coast and believe strongly in the tourism and hospitality sector here and are proud to have the successful Whale One operations now powered by Sunreef Mooloolaba," Sunreef owner Dan Hart said.
Dan said since first purchasing Sunreef Mooloolaba in 2012, they had worked hard to grow the business, employing locals and diversifying their offerings.
"We started our expansion with the introduction of Australia's first Swim with Humpback Whales Experience in 2014, and this year have added Hire Hut, now called Sunreef Hire Mooloolaba, and Whale One.
"The Sunshine Coast is an incredible region and we love showcasing it to tourism from all over Australia and around the world, while also servicing our local customers.
"Whether you want to whale watch, swim with whales, scuba dive on ex-HMAS Brisbane or Flinders Reef or just hire a stand up paddleboard, kayak, jetski, small boat or even a bike, we can do it all."
Dan said adding Whale One to Sunreef's experiences at this time was particularly exciting.
"We are just entering the beginning of the whale watching season, with more than 33,000 whales expected to migrate north through Sunshine Coast waters before coming back south and returning to Antarica at the end of October, early November.
The whale watching season will officially start on Saturday 2nd June, with whale watching trips aboard Whale One or Wild One costing just $69 for adults or $49 for children, continuing through until 4th November.
"And ofcourse our fifth Swim with Humpback Whales Experience officially launches on Friday 6th July – then you can take your pick – whale watching or the swim with whales experience for $149 per person," Dan said.
"We are so excited to have the whales back – Nothing can describe the feeling when you are just metres away from these animals whether from the boat or in the water," Dan said.
"It is such a unique experience that every time it's just like my first all over again. It's almost indescribable but it gives you a rare insight into their world – it gives me goose bumps just thinking about it."
Visit Sunshine Coast CEO, Simon Latchford, has welcomed the announcement by Sunreef to expand their water attraction offerings at the newly refurbished The Wharf, Mooloolaba.
"This is yet another significant investment by Sunreef in the local tourism industry and demonstrates a real confidence in our tourism sector both here and now but also where we are headed in the future.
"The timing is ideal as the 2018 whale season is upon us and we know that people are seeking authenticity and genuine activities and experiences. Whale watching and whale swimming has become a signature attraction for the Sunshine Coast and creates another reason for visitors to come to our destination," added Mr Latchford.
This year, more than 33,000 humpbacks are expected to make the migration north from Antarctica. After eating up to four ton of krill and small fish a day each in the Antarctic over summer, the Humpbacks migrate to the warmer northern waters which provide perfect temperatures to give birth to their calves in the sheltered waters of Queensland's coastline.
Sunreef Mooloolaba will this year again be working closely with researchers from the University of the Sunshine Coast to find out more about the humpback whale species and their environment to help ensure their preservation into the future.
To find out more visit www.sunreef.com.au or call 07 5444 5656. We look forward to seeing you soon!